RESTLESS, 7th Annual 126 Members Show, Galway as part of Galway International Arts Festival, curated by Paul McAree
RESTLESS exhibition featuring the work of:
Amanda Rice (IRL), Aneta Nowicka (PL), Breda Lynch (IRL), Emer Ní Chíobháin (IRL), Gianna Tasha Tomasso (IRL), Kerry Guinan (IRL), Inguna Gremzde (LV), Jane Queally (IRL), Michael Holly (IRL), Noelle Gallagher (IRL), Nora Duggan (IRL), Robin Jones (IRL) and Ruby Wallis (IRL)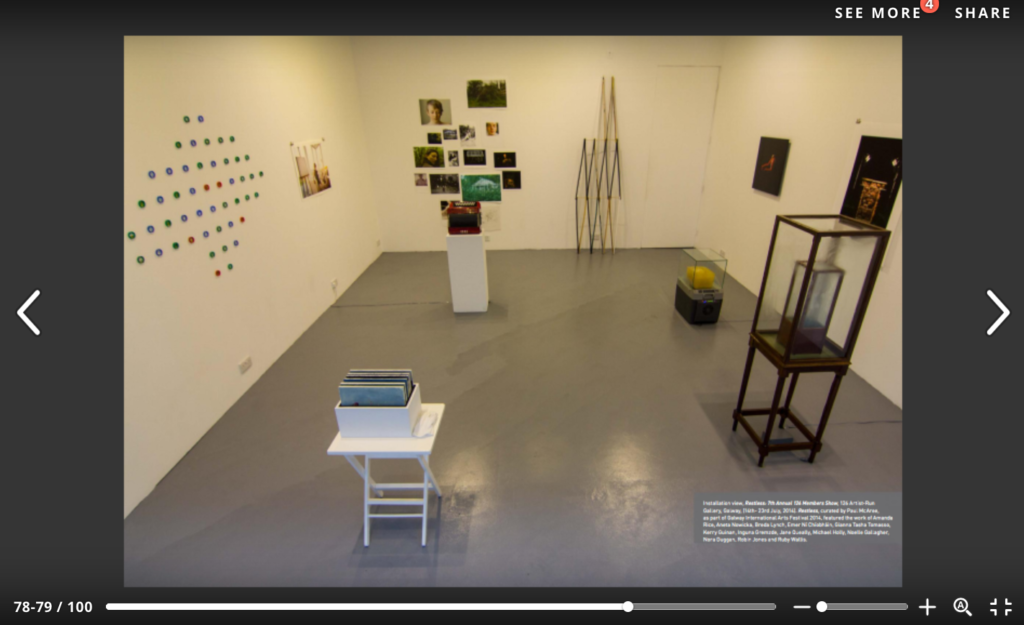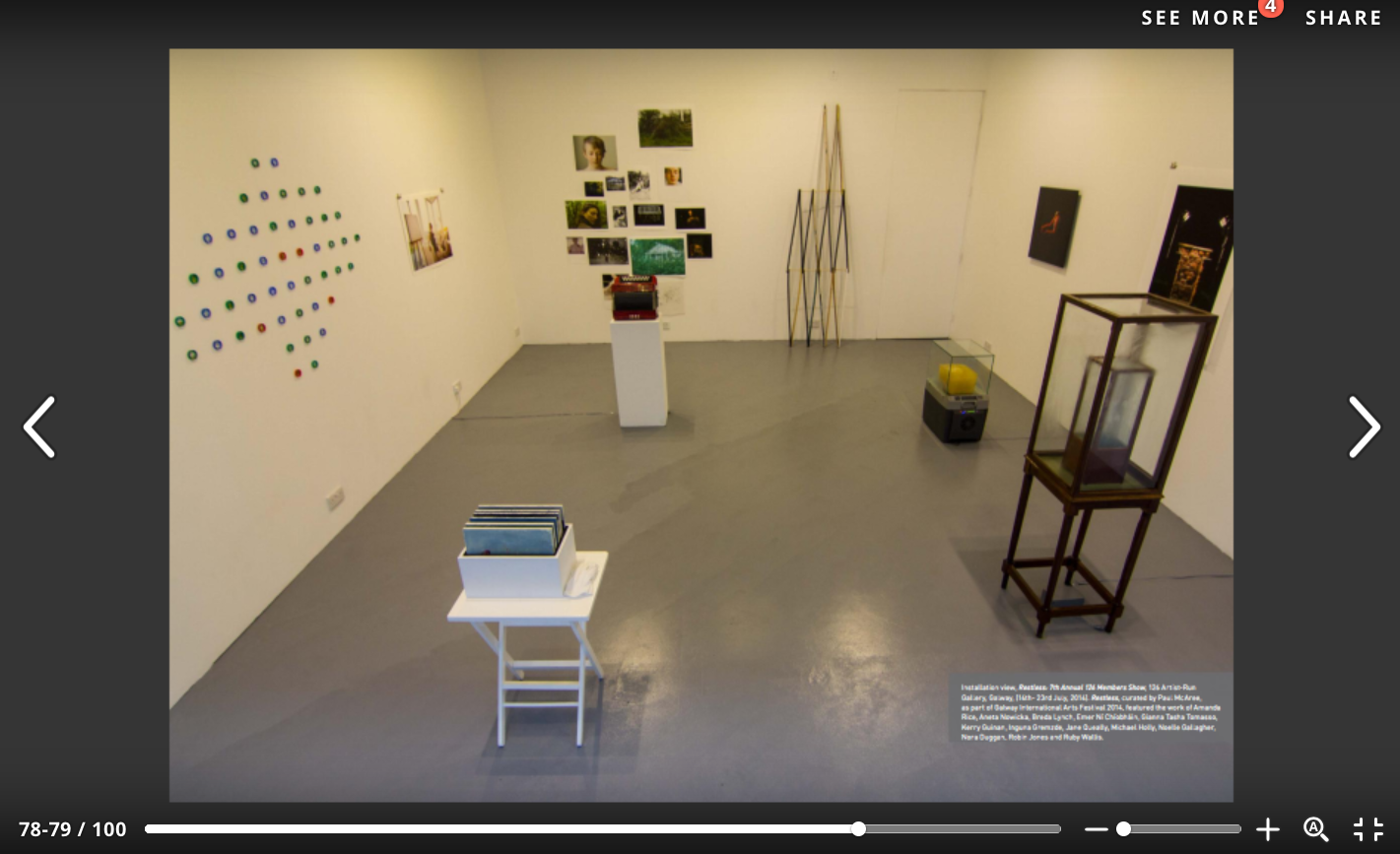 Image above from the opening night taken from the Footfall Report;
Published on Mar 27, 2015
FOOTFALL is a national research project devised by 126 Artist-Run Gallery to explore the position of small arts organisations in Ireland and Northern Ireland. The aim of the research programme was to develop new, nuanced means to articulate the value of the work done by smaller, diverse and risk-taking visual arts organisations based in these areas. FOOTFALL examines what separates the activities of artist-led organisations from those of other art institutions and the role they play in artists' careers. The year-long programme of research was coordinated by 126 Chairperson Shelly McDonnell, and comprised direct consultation with the organisations, practitioners and audiences within this sector. A Plenary Session was devised and facilitated by Ailbhe Murphy and Ciaran Smyth of Vagabond Reviews as part of the FOOTFALL Symposium in November 2014. The symposium – coordinated by 126 Artist-Run Gallery and Galway City Curator-in-Residence Megs Morley – featured invited speakers: Jason E. Bowman, Valerie Connor and Mikael Löfgren, and provided a platform for discussion on key issues pertaining to the artist led sector (Plenary Session Report and Symposium video documentation).
The FOOTFALL Research Report was written by arts writer and researcher Joanne Laws. Focusing on the Irish context, the report outlines why artist led organisations are established, how they are run and the type of work they do. Those perceived to benefit from this work and the inherent 'value' of such activity, is discussed. Drawing on emerging discourse in the field, possible methods for measuring 'non-economic' value are presented. The perceived strengths of artist led organisations are identified and this is followed by a discussion of the central issues of sustainability and artistic labour. The report concludes with thoughts on whether there is a need for further organisational forms within the artist led sector in Ireland. FOOTFALL does not aim to represent the agenda of artist led organisations in Ireland but rather to generate an inquiry into the value of the labour invested in running them.